International Baccalaureate
The Aga Khan Academy Mombasa follows the principles of the International Baccalaureate (IB) and is an authorised IB World School. 
The International Baccalaureate is a non-profit educational foundation, motivated by its mission to create a better world through education.
The three IB programmes offered at the Academy help develop the intellectual, personal, emotional and social skills to live, learn and work in a rapidly globalising world.
The three programmes are: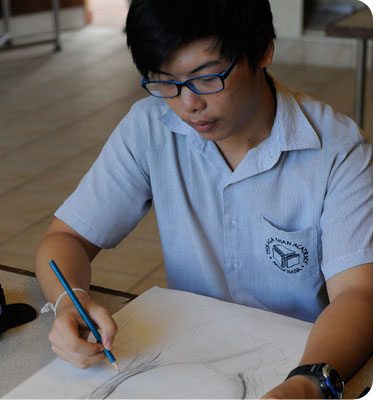 Primary Years Programme
The Primary Years Programme (PYP) at the Academy, for students aged 6–10, focuses on the development of the whole child, addressing social, physical, emotional, and cultural needs, while giving students a strong foundation in all of the major areas of knowledge. Through the PYP, children become aware of and sensitive to the points of view of people in other parts of the world.
Middle Years Programme
The Middle Years Programme (MYP), for students aged 11–16, integrates the study of all the major disciplines, including languages, sciences, literature and the social sciences, mathematics, arts, technology and physical education. The MYP normally includes a service component designed to encourage students to become involved with their communities.
Diploma Programme
The Diploma Programme (DP), for students aged 16–19, is a two-year course of study that prepares students for university. All DP students study languages, a social science, an experimental science, mathematics and, usually, an arts subject.
At the same time as it provides a form of academic passport, the DP generally fulfils the requirements of a student's national education system. Each student's performance is evaluated by independent examiners and measured by his or her levels of knowledge and skills relative to set standards applied to all schools.
Aims of the IB programme
Founded in 1968, the International Baccalureate currently works with 3,423 schools in 141 countries to develop and offer their programmes to over one million students. 
Their mission statement declares: "The International Baccalaureate aims to develop inquiring, knowledgeable and caring young people who help to create a better and more peaceful world through intercultural understanding and respect."
"To this end the organisation works with schools, governments and international organisations to develop challenging programmes of international education and rigorous assessment. These programmes encourage students across the world to become active, compassionate and lifelong learners who understand that other people, with their differences, can also be right." 
The IB is more than its educational programmes and certificates. At heart they are motivated by a mission to create a better world through education. 
They value their hard-earned reputation for quality, for high standards and for pedagogical leadership.
They achieve their goals by working with partners and by actively involving stakeholders, particularly teachers.
For further information please visit the IB website.