Our school culture is based on respect, integrity, honesty, fairness, empathy and good humour; and these values permeate the ethos of residential life. 
The residential environment is warm and supportive, and this is reflected in the peaceful and inviting architecture of the residences. Boys and girls live in separate student residences, and all students are closely supervised by faculty and staff.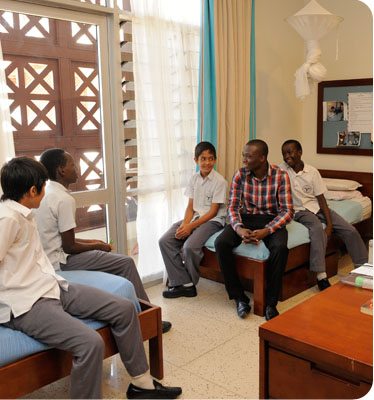 The adjustment to living away from home for the first time can be difficult for students. Our dorm parents are a carefully chosen group of teachers who live in faculty apartments in the residences. They ensure a safe, nurturing and fun-filled environment for students.
Dorm parents are trained in critical skills such as health and safety, community life and interpersonal relations. They possess a high level of energy to handle multiple tasks while offering guidance and support to the students.
We provide accommodation for members of the Academy community from both within the country and overseas, as well as those visiting or on exchange from another Aga Khan Academy. Additional teachers' quarters on campus house both resident and visiting faculty along with their families.