Built on an 18-acre (7.3 hectare) site in the Kizingo area of Mombasa, the Aga Khan Academy Mombasa is a state-of-the-art facility inspired by Swahili architecture.
Our school is the first of a network of about 18 planned Academies offering the highest international standard of education to students in countries across Africa, South and Central Asia, and the Middle East.
The campus has been specially designed by renowned architects and is purpose built. Our facilities include the following academic and resource areas: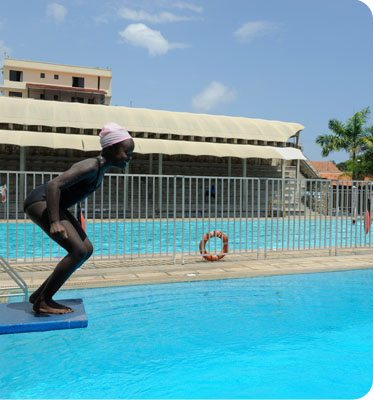 Subject and age-specific classrooms
Well-equipped science and computer laboratories
Library and resource centres
Art and music rooms
Design and technology workshops
Multipurpose hall
Religion and culture room
Career counselling facility.
The Commons building houses the dining hall and an array of spaces for school activities. It is designed to be the hub of student activity, serving as the Academy's main space for major school functions, including music and drama performances and public lectures. 
Sports facilities
Our sports facilities are extensive and include:
Swimming and diving pools
Sports fields, for example for soccer, hockey and athletics, including floodlight capacity for nightime matches
Gymnasium for indoor sports such basketball, badminton, volleyball, gymnastics
Tennis courts
Residential accommodation
Our residential facilities have been designed to house students and dorm parents (teachers who have been selected and trained to live in the faculty apartments in the student residences). Accommodation is available for Academy community members from both within the country and overseas, as well as for those visiting or on exchange from another Aga Khan Academy. Additional teachers' quarters on campus house both resident and visiting faculty along with their families.
We invite you to visit the Academy to take a tour of our beautiful campus.