The Aga Khan Academy Mombasa has been an International Baccalaureate (IB) World School since May 2005. We offer the IB Diploma Programme (DP) to students in the final two years of school (aged 16–19).  
The Diploma Programme is a demanding, pre-university-level course of studies. It is internationally recognised by over 2,000 universities worldwide.
The DP has a reputation for rigorous assessment of student achievement. Each student's performance and level of knowledge are examined internally by teachers according to set criteria. They are also assessed externally by independent examiners according to global standards applied to all IB schools.
Our students study all the subjects covered in a traditional, broad curriculum, including languages, social sciences, experimental sciences, mathematics and the arts. The DP also takes the curriculum a step further through three unique programmes: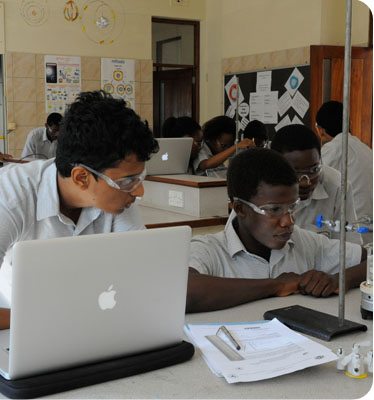 Theory of knowledge
Creativity, activity, service
Extended essay
Theory of knowledge 
Theroy of knowledge (TOK) is an interdisciplinary requirement unique to the International Baccalaureate Diploma Programme. It encourages students to reflect on the knowledge they gain both inside and outside the classroom.
One hundred hours of classroom time are dedicated to the TOK programme. We challenge our students to question the nature of knowledge across disciplines, to recognise biases and to analyse evidence using rational thought and argument. By making our students consider and appreciate different perspectives, TOK contributes towards a pluralistic outlook.
Creativity, activity, service
Creativity, activity, service (CAS) is an important component of the IB curriculum and is required for every DP student at the Academy. Our students participate actively in a variety of creative endeavours, physical activities and community service projects. They develop self-confidence, teamwork and leadership skills, and a sense of civil responsibility.
Students take part in sustainable projects that have real and lasting effects on the greater Mombasa community. They develop strength of character and an understanding of their ability to bring about change.
The CAS programme is valued for its power to transform the lives not only of students but also the people they work with. It serves as a platform for interpersonal exchange, personal growth and greater understanding of the issues we face as a global community.
Extended essay
For the extended essay, we require students to pick a subject of their choice and research and develop this subject in a 4,000-word essay. Students may choose to investigate a subject from one of their higher-level courses more deeply. Or they can broaden their academic experience by researching a subject in a field they are not currently studying. 
Through the extended essay, we introduce students to the kind of independent research and writing skills expected at the university level.
For further information on the IB Diploma Programme at the Academy, please see the admission requirements or contact us.