The Junior and Senior Schools
The Aga Khan Academy Mombasa is made up of two schools, the Junior School and the Senior School, which together cater to students from year 1 (age 6) to university entrance.
Junior School
We currently welcome 181 day students in the Junior School (years 1–5), most of whom are from the local area. All Junior School students follow the International Baccalaureate (IB) Primary Years Programme (PYP). Through the PYP, our students learn to be confident, independent and creative learners.
The Junior School building has been designed to address the needs of younger children, with age-appropriate facilities and classrooms. In addition to the PYP classrooms, the building contains the Junior School library, and music, art and information technology rooms. There are also large playing fields and an adventure playground.
Senior School
The Senior School currently houses over 500 students. Those from the local area attend as day students, while those from other parts of the country or region live on campus as part of the residential programme.
Students in the Senior School pursue either the IB Middle Years Programme (MYP) or the IB Diploma Programme (DP).
The Middle Years Programme is for students in years 6–10. It helps them master essential skills and knowledge, and teaches them to be critical and analytical thinkers. 
The Diploma Programme is offered to students in the final two years of school. It is an internationally recognised and demanding programme that prepares students for university entrance.
The school caters to both the intellectual and personal growth of students.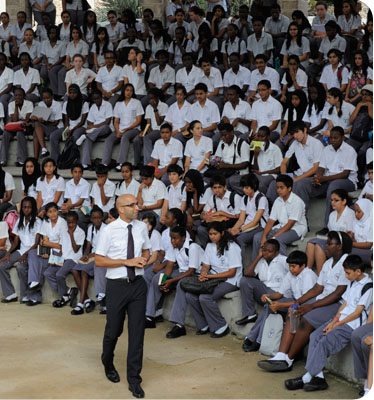 The Senior School has a wide range of facilities that include:
Laboratories for the sciences as well as for home science and computers
Art and music rooms
Library and resource centre
Religion and culture room
Career counselling centre
Design and technology workshop
Student and teacher lounges
Theatre
Multipurpose hall
Cafeteria and dining area  
The building is networked so that computers become common resources for teachers and students. The multipurpose hall can be used for a variety of events ranging from theatre productions to parent-teacher meetings. The school also has swimming, basketball, badminton, volleyball and gymnastics facilities as well as playing fields for soccer, field hockey and athletics.
For further information about applying to any of the programmes offered at the Aga Khan Academy Mombasa, please refer to the admission requirements.