Young entrepreneurs return from Ryerson University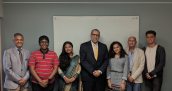 Academy students and faculty with Dr. Mohamed Dhanani (Advisor to President), Dr. Mohammed Lachemi (President, Ryerson University) & Dr. Anver Salooji (Asst. Vice President)The three Aga Khan Academies students who participated in the Ryerson DMZ Basecamp recently returned to their respective schools full of entrepreneurial energy. Towards the end of the month-long summer camp, they had worked on their revenue models and prototypes in preparation for launching their products into the market as full-fledged founders of companies. Nabil Patel, Rudra Aryan and Elya Djaffar were the only high school students who took part in this business incubator programme.
They attended a number of workshops in the last couple of weeks. One was dedicated to the subject of 'Growth Marketing' held by Digital Natives, a company that helped students understand various strategies and tactics to maximize their market reach. Another workshop focussed on 'Sales & Negotiation' and was conducted by Mike McCarthy, a specialist in sales negotiations at DMZ who coaches students on how to work with clients and close business deals through various real-life simulations.
The students also had the opportunity to meet with the President and Vice Chancellor of Ryerson University, Mr. Mohamed Lachemi, who had visited the Aga Khan Academy Hyderabad in 2017. Also present at this get-together was Assistant Vice President Saloojee, Director Todd Carmicheal and Special Advisor Mohamed Dhanani. Students and accompanying staff member Jina Saha participated in an insightful debrief of the Sandbox Basecamp and the students' stay in Toronto.
The camp ended with the three best start-ups winning prize money to kick start their businesses and scale them up, after pitching to judges in several rounds. "Even though we didn't win, we have found this entire experience invaluable in terms of learning and exposure," said Nabil. "I am sure this will help all of us achieve great things in the years to come."
Contributed by Nabil Patel & Elya Djaffar
Republished from the AKA Hyderabad site.