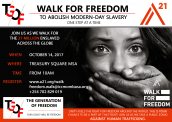 This Saturday, 14 October 2017, over forty countries around the world, including Kenya will be hosting an event called "Walk for Freedom". This event is organized by the international organization A21. Millions of people will be walking in order to create awareness on the very real and very persistent problem of modern slavery and human trafficking.
The International Organization for Migration (IOM) estimates that 10,000 people are trafficked into the Kenyan Coast every year, yet this is not common knowledge. Young girls and boys are often used in the child sex industry that has gained popularity along our coastline and will continue to be exploited this way unless a stand is made. 
The goal of the Walk for Freedom is to create the awareness, educate our community and convince the Kenyan authorities to take a firmer stance against trafficking in persons (for use of domestic work,  sexual labour, child sex slavery, cattle herding and organ harvesting).
Interested in joining the fight against human trafficking? Let's "Walk for Freedom" this Saturday (14 October) from Treasury Square to Kilindini Post Office Roundabout via Nkrumah Road and Moi Avenue. We'll be there from 10 am onwards. Register here and see you on Saturday morning!