Voices for Change Heads to Nairobi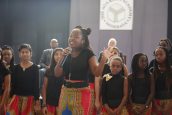 Voices for Change performs at the 2017 GraduationVoices for Change heads to Nairobi where they hope to wow diferrent audiences and hone their skills further. They will start off with a performance on Citizen TV from 6-9 am on 16 June during the show "The Power Breakfast". They will later be recording a few songs with the famous youth choir, Redfourth Chorus.
The next day is scheduled to include a masterclass with a leading Kenyan vocalist at Safaricom Headquarters with 4 other choirs. In addition to this, on Saturday evening, they will be performing at a concert from 6-8 pm at Michael Joseph Centre. 
We wish Voices for Change the best as they move onto great things and represent the school at a national stage yet again.
PC: Maiafreia Photography