Virtual internship with the Aga Khan Academies' Holiday Programme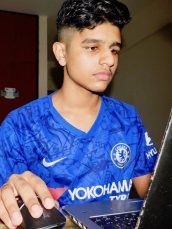 Arshman Balouch virtually interning on the Academies' Holiday Programme.Arshman Balouch, a Diploma Programme (DP) 2 at the Academy in Mombasa spent six weeks virtually interning on the Aga Khan Academies' Holiday Programme, which was designed to have students undertake several activities and courses over their summer break so as to build relevant skills, including critical and creative thinking.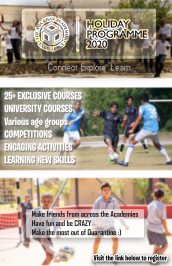 Poster designed by Arshman.During his internship, Arshman, who was guided by a supervisor in London, was tasked with marketing the Holiday Programme. This included creating posters and animations, sending emails to parents and students and promoting across social media to get as many people to sign up for the programme. Due to his prior experience in the marketing field, Arshman found his role to be very enjoyable.
Speaking of his experience, Arshman said it was monumental because he had a chance to interact with and learn from individuals from different places. "I had a team of fellow student interns to work with and this made the internship more interesting. We got to know each other really well and the different ways each of us preferred to complete our tasks helped to improve our existing routines. The people I worked with were from Mozambique, England and India," Arshman stated.
According to Arshman, the internship helped him enhance his technical and communication skills, which he said will help him in a real work setting.
After a productive internship experience, Arshman suggests that future DP1s should make use of the internship opportunities to gain experience and learn new skills. "I would unequivocally recommend this to future DP1s because it shows you how different the working environment is compared to the one at school and helps you build relevant skills, which prepares you for the future."