UNESCO honours Aga Khan Academies partner Concordia University with King Sejong Literacy Prize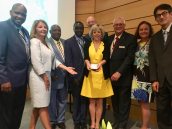 The prize-winning team at UNESCO's awards event Photo: Courtesty of CSLPCongratulations to our partners at the Centre for the Study of Learning and Performance (CSLP), part of Concordia University in Canada, on being honoured with the UNESCO King Sejong Literacy Prize.
The prize is given annually to candidates who have proven their capacity to develop and deliver mother-tongue literacy education and training. It was one of five major awards presented to organisations from around the world in honour of International Literacy Day on 8 September 2017.
CSLP was recognised for their work creating and implementing the Learning Toolkit (LTK+) – a suite of interactive, bilingual multimedia tools available free to the education community in Kenya.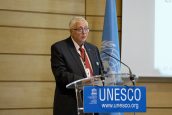 Philip Abrami, CSLP director Photo: © UNESCO/Christelle ALIXPhilip Abrami, professor of education in the Faculty of Arts and Science and founder and director of the CSLP, is thrilled. He says the initial inspiration for disseminating the software around the globe came from a realisation that merely developing and publishing high-quality educational research was not an end game.  
"Wanting to make a difference led to understanding the importance of literacy and the potential of educational technology," he explains.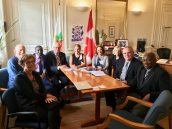 Representatives from CSLP, the Academies and UNESCO Photo: Courtesy of CSLP"Encouraged by our collaborators, we brought it to Kenya. After such successful take-up of our tools in classrooms there, we are now expanding into other areas of the sub-Saharan, in addition to Southeast Africa. The LTK is also being used in the United Kingdom, Hong Kong and China."
Abrami credits the success of this project to the support of its partner organizations, especially their main partner, the Aga Khan Academies, which has an extensive local network of stakeholders and an exceptional and widespread reputation.
"Rolling out the LTK+ would not have been possible without their generous contributions," he says. "We are forever grateful for the support of these dedicated organisations."
Click here to read further about this initiative, and watch the video below to find out more about CSLP's award-winning work.