Tamara Werle: The 2020 Aga Khan Academies - Concordia University Program
AKA Mombasa's Class of 2020 received prestigious scholarships worth over USD $6 million to attend reputable universities worldwide. The highly competitive, need and merit-based scholarships are awarded to outstanding students who have shown exceptional academic strength, leadership skills, and involvement in community service, co-curricular activities and student affairs. Over the next few days, we will highlight some of the recipients.
Tamara Werle, who joined the Aga Khan Academy Mombasa in 2009, received one of four scholarships by the Aga Khan Academies to Concordia University to pursue a Bachelor of Science degree in Psychology with a minor in Creative Writing. The scholarship covers the full cost of tuition as well as bursary support covering living expenses.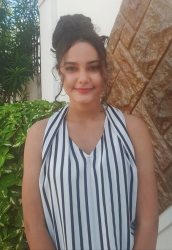 Tamara Werle.When Tamara was awarded the scholarship, she said she felt delighted and extremely thankful. "I was so excited when I got the news, but also very relieved. The waiting game is the most stressful part of applying to universities, especially when your education is dependent on financial aid and so in that sense you know that your future is in someone else's hands"
Tamara accredits the opportunity she has received to her academic strengths, leadership abilities and endeavours in co-curricular activities, which were focused in the arts and sciences. While at the Academy, she was involved in a number of activities that shaped her to be an all-round student, including being an integral part of the organising committee that put together TEDxYouth@AKAMombasa since its inception in 2017, participating in the Golden Climate Olympiad, co-founding an extra-curricular activity on self-expression called the silent's artist society, and entering a poetry competition. In addition, she focused her extended essay research paper on a neurological disease after shadowing a neurosurgeon during an internship.
A beneficiary of the Academy's financial aid programme, Tamara feels fortunate to have gained from the school's curriculum and she is excited about what the future has to hold as she starts university. "I am proud to say that I've been privileged to attend the Academy on financial aid for several years, and I am beyond grateful for the opportunities that I have received due to the support of the school," Tamara said. "This is a life-changing opportunity for me and I plan to maximise it to the fullest. I hope to make myself and the school proud as I transition from life as a high school student to life as a university student."