Supporters and Friends of the Aga Khan Academy host charity golf tournament for AKA Mombasa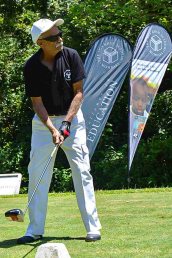 Shiraz Alibhai playing golf at the golf tournament.On Saturday, 26 October, Supporters and Friends of the Aga Khan Academy hosted a charity golf tournament at the Nyali Golf & Country Club Mombasa, with all proceeds donated towards the Academy's Talent Identification Programme.  
Around 130 people attended the golf tournament, which also included a dinner in the evening to recognise the winners of the tournament and their commitment towards supporting the Aga Khan Academies' programmes. Students from the Aga Khan Academy Mombasa showcased their personal projects and the summer programmes they participated in, which the golfers were able to view during the course of the day.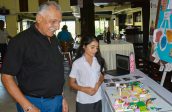 AKA Mombasa student discussing her project with Abdul Samji."Access to quality education should not be limited to those who are able to afford it, but should be made available to all talented students regardless of their backgrounds as this is His Highness' vision and mission for the Academies," said Abdul Samji, one of the Supporters and Friends of the Aga Khan Academy. "Through this event and our continuous support, we hope to enable the Academy in continuing to produce global leaders of tomorrow."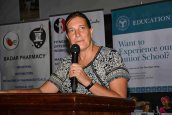 Head of Academy Alison Hampshire delivering a speech at the golf tournament.Head of Academy for AKA Mombasa Alison Hampshire said the event was an incredible initiative that will have a lasting impact on the Academy.  
"We are immensely grateful for the Supporters and Friends of the Aga Khan Academy for this golf tournament," Alison said. "Through this event we were able to share stories and accomplishments of our many students to people from around Mombasa. With this and future initiatives, we hope to continue building support for our Talent Identification Programme."   
The Talent Identification Programme was initiated in 2008 and actively searches for students with strong academic and leadership potential who come from disadvantaged backgrounds. The Academies aim to develop home-grown leaders by providing an international standard of education and strong leadership experience to talented students who are selected based on merit, regardless of socio-economic background, race, religion or culture.   
According to the Dean of Admissions Paul Davis, beneficiaries of the programme have shown high success rates at the Aga Khan Academy Mombasa, including good academic results, exceptional leadership skills, motivation to achieve and a commitment to strengthen and improve their communities.     
Learn more about the impact of our Talent Identification Programme from one of our 2014 graduates.