Students qualify for regional competition at Kenya Science and Engineering County Fair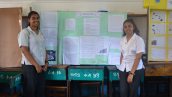 Alina Rattanshi, left, and Komal Hashwani, right, at the Kenya Science and Engineering Fair.Six students from the Aga Khan Academy Mombasa qualified for the regional competition after winning the County-level Kenya Science and Engineering Fair held at Makande Girls Secondary School from 12-13 March 2020. 
The students presented three projects in the categories of: Applied Technology, Energy and Transport and Physics.  
The 'solar-powered umbrella' project by Alina Rattanshi (DP1) and Komal Hashwani (Year 10) came in first place in the Applied Technology category. The 'biofuel' project by Zakir Jiwani (Year 10) and Nivyan Lakhani (Year 9) placed third in the Energy and Transport category while Year 8 students Aman Ratani and Alysia Dhalla's 'light it up' project came in fourth place in the Physics category.