Students present their experiences at the summer internship fair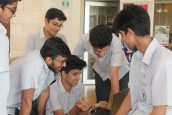 On 30 September, 40 Diploma Programme 2 students presented the internship or summer programme they participated in during the summer.  
Students took part in internships/programmes at Serena Hotel in Kampala, Yale Young Global Scholars, South City Hospital in Karachi, Pakistan and more. The DP2 students a part of the presentation spoke to DP1 students first and then to year 6 to 10 students. Members of the Academies Unit, along with the Head of Academy, attended the exhibition to learn more about what the students took part in this past summer.