Students participate in Kenya National Youth Chess Championships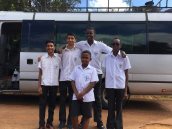 (From left to right) Shayne Shah, Rahul Doshi, Ryan Maina, Joe Mutua; (bottom) Alvin NgaruiyaFrom 5 to 8 April, five students from the Aga Khan Academy Mombasa competed in the Kenya National Youth Chess Championships at Bishop Gatimu Ngandu Girls High School and Ruthagati Secondary School, and came in fifth place out of the 32 schools that participated.
The students, from both Junior and Senior School, include:
Rahul Doshi, year 10
Ryan Maina, year 9
Shayne Shah, year 8
Joe Mutua, year 8
Alvin Ngaruiya, year 5
Out of the students representing the Academy, Shayne ranked the highest by winning six out of seven games. He was followed by Rahul who won five games and drew one out of seven. Ryan won five of his games, Joe won three and drew one and Alvin won three out of his seven games.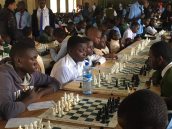 AKA Mombasa students participated in a three-day chess tournament for the Kenya National Youth Chess Championships."We are so proud of our students as they represented our school well by exemplifying outstanding performance," said Fiona Kinyua, the students' supervisor for the tournament. "The school has supported the team and we are happy as a chess club; we look forward to upcoming tournaments."