Students hold virtual Funza sessions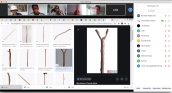 Students in a virtual Funza session where an individual was random selected to sell a stick. The idea behind the exercise was to encourage students to think on their feet and make a 2-minute presentation selling the product.Diploma Programme (DP) 1 students at the Aga Khan Academy Mombasa have been holding sessions of the service programme Funza on every Saturday. Funza, now dubbed 'eFunza' as a result of sessions being carried out virtually, is a student-led programme where students carry out activities as part of their enrichment.
Typically, Funza works with public schools around Mombasa to conduct workshops and other activities. However, due to the current COVID-19 measures, the sessions have moved online and focused on AKA Mombasa students. "We saw that many students at our school required skills that would enable them to use their voice," says DP1 student and Funza Communications Executive, Khushbu Kotak.
Jai Morjaria, a DP1 student and Funza Media Executive says that the purpose of these sessions is to train young students at the Academy to be the best version of themselves through confidence-building exercises that will not only help them speak better in public, but be more self-aware. "We hope to help them articulate their feelings, questions and thoughts better, which will help them in the classroom and in life in general," Jai Morjaria says.
To further complement the efforts of the previous members, the current members have utilised online media to keep the spirit of Funza alive. Other than online Zoom sessions, the team uses Instagram (@funzagroup) to share posts revolving around the important concepts of confidence, critical thinking, reflection and more in relation to the mission of Funza.
About
Funza is a service organisation founded by Class of 2020's Bilal Adamjee in August 2018 with the aim to push for educational reform in public schools by empowering students to express themselves confidently and articulately. The first-ever Funza summit was held at the Academy in 2019 with great success and the current members hope to take this success to even greater heights.