Students organise the first ever Funza summit at AKA Mombasa!
On 28 and 29 October 2019, a team of 20 students came together to organise the first ever Funza summit at the Aga Khan Academy Mombasa. An undeniable success, the students hope to take Funza to new heights to effect change across public schools, by mentoring children to face real world difficulties using the most powerful tool they possess - their voice.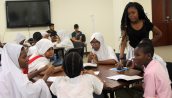 Delilah Tende (DP2), communications committee member at the summitFunza is a service organization founded by second year Diploma Programme student Bilal Adamjee at the Aga Khan Academy, Mombasa. Bilal's idea stemmed from his passion for educational reform  and his desire to shift the way children approach learning from a merit-based series of achievements to a joyful, passion-filled journey.
"Live and learn by what you love is a phrase I coined that best describes my zeal to catalyse change in the education sector," said Bilal.
This year, a team of 20 students organised the first ever Funza summit on 28 and 29 September 2019. The two-day program brought together 10 student representatives from three schools around Mombasa that Funza recently partnered with: Mvita Primary School, Majengo Primary School, and Kongowea Primary School.
At the summit, Funza put to test its latest design of confidence-building sessions through the participating students. These sessions included workshops on improvisation, self-awareness, expression, innovation and role-play.
"On the last day of the summit, all 30 students presented what they learnt and how the five sessions enriched them in different ways," added Bilal. 
Here we learn more from AKA Mombasa students behind the summit: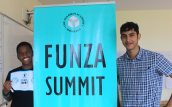 Bilal Adamjee (DP2) with a student at Funza summitWhat motivated you to start Funza?
"My inspiration for the work I do in Funza and that which I transfer to my members is a TED talk I watched two years ago titled 'Do schools kill creativity?' by Sir Ken Robinson, a great challenger of the normalized culture of education. He revealed to me the various loopholes and issues within the universal education system and how children learn, especially in schools that lack government funding and support. My strength, and that of many of my peers, is my voice. If it weren't for frequently honing in the activities and initiatives I do, I wouldn't be the ambitious person I am today. However, across the Mombasa community, I often visit schools to see them lacking in certain key elements: Confidence, value of student voices, and the emphasized freedom to speak. To integrate such skill sets could revolutionize children's lives, communities, and Kenya as a country entirely."
- Bilal Adamjee (DP2), Founder 
Tell us something about your role at the summit?
"I facilitated the self-awareness session where I carried out interactive games of understanding ourselves in terms of strengths and weaknesses, setting goals, and the importance of aspirations and dreams. At the end of our session, I could see a change in the students – they were able to speak confidently and better understand their potential."
- Margaret Makoba (DP2) , Management Executive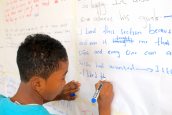 Student from Majengo Primary School at the summitDo you think the summit was successful?
"The Funza summit was a success as we were able to meet our objective which was essentially to spark the essence of confidence development in the students we are currently working with. We interacted with these students through various sessions that allowed them to break out of the circles of confinement within their school communities."
- Vallerie Musyoki (DP2), Communications Committee and Photographer