Students Benefit from Aga Khan Academies-Ontario Government Partnership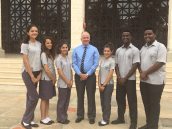 Head of Academy, Ray Zinsli, with the recipients of the awardWe are excited to annouce that seven of our students from the Aga Khan Academy Mombasa have received a full tuition waiver as part of the Aga Khan Academies Ontario post-secondary need-based tuition waiver programme. This is a product of the partnership between the Government of Ontario, Canada and the Aga Khan Academies which, in recognition of shared values and standards, aims to provide access to quality higher education to Academy students in need of financial support. 
As part of the agreement, 10 need-based, full-tuition waivers are offered to students of the Academies at both the Mombasa and Hyderabad campuses. 
Theresa Urist, Global Director of University Counselling, Aga Khan Academies explains the fee-waiver programme in the Aga Khan Academies newsletter article: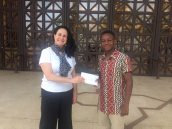 Theresa Urist with Mordecai Ngonge (Class of 2016)"We were looking for students of academic promise who received at least 50% financial aid at the Academies and who were actively involved with and were making contributions to their school community…Our hope was to enable more of our students [to gain] access to a high quality education, especially for students who otherwise may not have had access to this type of education due to a lack of funds."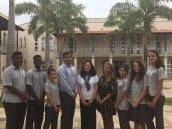 The awardees with Theresa Urist, Adnan Visram and Samantha CarasOur best wishes go to the recipients of this generous award: Muriuki Njonjo, Salim Abdallah, Zarina Mamadbekova, Ganjina Vanjova, Muslima Niyozmamadova, Nafisa Rahimjonova and Mordecai Ngonge (Class of 2016). We wish them well as they embark on this new stage of their lives. We also hope that this opportunity opens doors for them as well as the members of their respective communities as they strive to make a difference. 
By Aleesha Suleman
Photo Credit: Haifa Badi Uz Zaman