Students and Teachers Collaborate to Connect Science to Everyday Life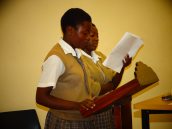 From 13th to 15th April 2015, the Aga Khan Academy, Mombasa hosted a group of students and teachers from various public schools as part of the Educating Girls in Sciences (EGIS) Project. The project, funded by Intel and the Aga Khan Foundation, USA, focuses on the provision of quality education to the girl child through activity-based science learning, in ways that would directly impact their own communities.
The girls and their teachers went through respective workshops on each of the three days, focusing on potential project areas and innovative pedagogies respectively. Each day was concluded with a joint reflective session tapping into the learning experiences of the day. The students presented and received comprehensive feedback from the judges on their project proposals.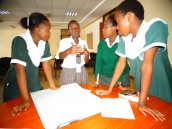 Meanwhile the teachers engaged in lesson-planning activities and micro-teaching sessions, where they trialed with effective ways to introduce science to girls as well as make it relevant to their day-to-day lives. Some of the student project proposals included the creation of a local water-purification system through UV radiation, the creation of a detergent that was locally sourced and manufactured, and an analysis of the benefits of including exercise to boost academic performance in the classroom.
On the final day of the preparation, the students presented their action plans to respond to the constructive feedback and  improve  their  project proposals and will embark  on these for the final project presentations scheduled for June 6, 2015. The teachers have also received detailed feedback on their own teaching and planning practices, and with continued training, will be able to teach science through innovative, enjoyable and relevant activity-based techniques.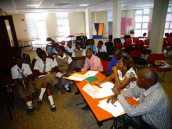 Lucy Mwandawiro and Julius Menzah, members of the EGIS Project team, commented on the dramatic improvement on the students' presentation skills and confidence, especially as the experience is so different from the traditional learning techniques they may have been used to. At the closure of the three-day training, the Vice Principal for PD and Outreach, Dr. Gioko reiterated the importance of feedback, not as an end in itself but a process for growth. With more training in an inquiry-based and activity-focused environment for learning, there is hope for more promising results at the time of the final presentations.