Students advance to represent Kenya in East African games for swimming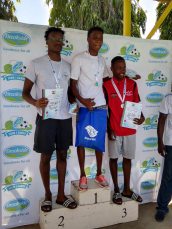 Kiruna Kunyiha, far left, advanced to the finals and will represent Kenya at the East African games.On 11 April, six students from the Academy advanced to the finals for swimming at the Kenya Secondary Schools Sports Association National Term One Games.
The following students made it to the finals:
Melissa Van Nierkerk, year 6
Lisa Serem, year 7
Aheer Chatterjee, year 10
Shekila Athman, DP1
Zohra Dewji, DP2
Kirunda Kunyiha, DP2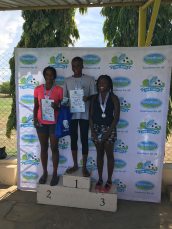 Shekila Athman, middle, advanced to the finals and will also represent Kenay at the East African games.From those six students, Aheer, Shekila, Zohra and Kirunda were selected to represent Kenya's national team in East African games, which will be held in August in Arusha, Tanzania.
"On behalf of the sports department I would like to congratulate the swimmers for their astonishing performance!" said Marcelino Ngalioma, the head of swimming.