Student participates in Global Citizens Initiative Summit
From Tanzania, to Mombasa and now to Cambridge, Massachusetts, DP2 student Alqaim Lalani has expanded the reach of his service project through the Global Citizens Youth Summit this past summer.
The Summit, which is a part of Global Citizens Initiative (GCI), is a residential programme for 28 high school students from around the world to engage in discussions about global issues. The programme encourages students to look at global issues through the concepts of engagement, ethics, excellence and leadership. Students are also supported in focusing on a global issue they want to address "glocally," which means to think globally, but act locally.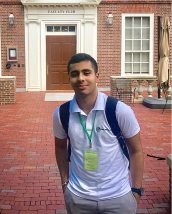 Alqaim Lalani at Harvard University in Cambridge, MassachusettsBeing a part of the Summit as a fellow, Alqaim was able to share his service project, Tumaini La Maisha, an initiative aimed at helping children with cancer, with numerous people at Harvard University, while also getting access to a network of alumni, mentorship and seed funding.  
"Perhaps the most rewarding aspect about [GCI] is that it empowers you to be a changemaker in your community," Alqaim said.
Although operated in two different continents, Alqaim said the visions and missions of GCI and the Aga Khan Academy Mombasa are in sync.
"The vision of GCI aligns to our school's vision in that they hold the summits every year for young scholars in order to help them reach their potential," Alqaim said. "Just like the vision of the school, which is to nurture homegrown talented young leaders, GCI aims to help students realise these same qualities."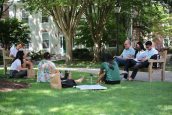 Alqaim Lalani (far right) with other students involved in the GCI SummitAccording to GCI's website, Dr. Fernando Reimers, Director of the Global Education Innovation Initiative and of The International Education Policy Programme at Harvard University, said the programme encourages students to work with people from varying backgrounds in order to have a pluralistic society capable of making an impact on the world. 
"GCI cultivates a diverse community of global leaders who can, together and in collaboration with others, meaningfully advance inclusion, freedom, and justice for all, and tackle the challenges brought about by globalization, as identified in the United Nation's Sustainable Development Goals," Reimers said. "This is important work because we need, urgently, more leaders like these." 
The themes of pluralism and positive development seen in GCI are an integral part of the vision behind the Aga Khan Academies, as His Highness the Aga Khan emphasises:
"The education that the Academies will offer will make the case for a pluralist worldview. It is one which values differences of outlook, ethnicity, and religion and culture, yes in the interest of justice and fairness, but also because a temperament receptive to pluralism helps creativity, curiosity and inquiry, to thrive in sharing the best of human knowledge and talent from whatever individual, or group, it originates." (Speech at the Foundation Stone Laying Ceremony of the Aga Khan Academy Maputo, 25 June 2004).
Alqaim said he also saw the value of how important pluralism is both at the Summit and the Academy.
"The Global Citizens Initiative endows one with a network of outstanding individuals from all sectors of society and a mindset that will empower you to make a difference as a leader," Alqaim said. "(I am) privileged to attend a school that places so much emphasis on pluralism. My experience at the Summit made me further appreciate the importance of such dispositions."
Learn more about our other students' experiences at GCI:
http://www.agakhanacademies.org/mombasa/global-citizens-summit-youth-harvard-university
http://www.agakhanacademies.org/general/taking-global-local-muslima%E2%80%99s-experience-global-citizens-youth-summit
By Anusha Lalani