Senior School Library Wins Maktaba Awards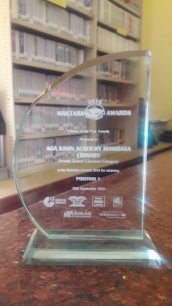 First Position Award in Private School CategoryThe Aga Khan Academy Mombasa's Senior School Library secured the top position in the Private School category of the Maktaba Awards Gala, which was held on Friday 30 September 2016 at the Nairobi National Museum.  
Maktaba Awards is an annual nationwide recognition of libraries organized by the Kenya Library Association (KLA). To participate in the contest, libraries are required to submit their profiles showcasing their facilities, resources and services. Members of the KLA visit the participating libraries to verify the libraries' portfolios. They also conduct interviews for different user categories as part of the assessment.
This year, 71 libraries across the country in different categories submitted entries to this prestigious awards body for recognition.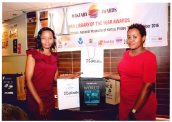 Librarians Joyce Wangari and Phylis Nyariki at Maktaba Awards GalaThe AKA Mombasa Senior School Library scored highly on the following indicators:
a) Application of modern technologies
b) ICT facilities and resources
c) Currency, relevance and diversity of resources both in print and non-print, including online databases
d) Space in terms of capacity of users the library can accommodate at any given time as well as the facilities and resources the library can hold
e) An annual budget that ensures regular purchase of resources and facilities
f)  Qualified staff
g) Outreach program through books donation
The awards received by the Library were: a trophy, a certificate, a tablet, a Kindle Reader, a cheque of Ksh. 60,000 and 200 books from Book Aid International.
By Joyce Wangari, Senior School Librarian.