Second TEDx Youth Event Inspires Mombasa Community.
On Saturday 17 March 2018, 100 participants from the Mombasa community gathered together to share ideas and be inspired by an amazing line-up of speakers and performers of different ages and backgrounds at the TEDxYouth@AKAMombasa event.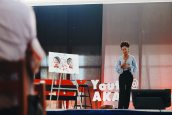 Sharon Muchina (year 12) talked about the healing power of art. Firstly, what is TEDx? "TEDx is a program of local, self-organized events that bring people together to share a TED-like experience. At a TEDx event, TED Talks video and live speakers combine to spark deep discussion and connection. These local, self-organized events are branded TEDx, [the 'x' indicating] an independently organized TED event. The TED Conference provides general guidance for the TEDx program, but individual TEDx events are self-organized." The event is the Academy's second official TEDx event; a fresh and unique experience in a place such as Mombasa. Licensee and Lead Organiser, Ryan Herman said "Students are pushed out of their comfort zone because, not only do they come on stage to perform and present their ideas, but are also involved in the organizing of many different aspects of such a major event, such as sponsors, media, curation, and design. Furthermore, the principle behind such a unique youth event is to shift the perception of where ingenuity and innovation come from with regards to geographic region – Mombasa is a source of knowledge, not just a receiver of it".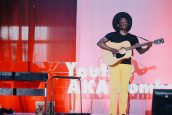 Chris Muthoka (Kaskazini band) on his determination to beat the odds.The theme of the event was "The Unstoppable: Embracing Uncertainty" and the topics covered by the speakers ranged from the teaching of African History to e-commerce to memes. Joining 12 student speakers from the Aga Khan Academy Mombasa, were 8 guest-speakers from around Kenya. One of the guest-speakers was Chris Muthoka, member of the band Kaskazini, who talked about his journey as a young musician in Kenya, and another was KTN TV-host Aisha Wanjiku, who talked about motherhood and her struggle on the way up. The other guest speakers ranged from resource managers to spoken word artists to young entrepreneurs.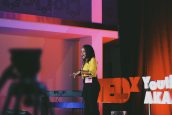 Aroha Oyugi (year 12) spoke about the importance of changing your mindset.Furthermore, the Academy's internal speakers, who had been carefully selected and trained in public-speaking in preparation for the event, showed incredible confidence and depth in their ideas, despite being so young – the youngest student was Aly Jassani who talked about the value of e-commerce and his own entrepreneurial ventures. The topics from them showed how diverse the student-body is since they ranged from mental health to appreciation of African history to the power of healing through art. Additionally, the audience also got a taste of the wonderful musical talent of the students through a number of performances over the course of the evening.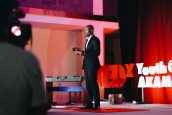 Elias Okwara (AKA Mombasa alumnus, Class of 2008) on cyberwarfare.According to Saumya Gupta, the Co-Organizer of the event, "We have a tendency of thinking that only knowledgeable adults can have groundbreaking ideas within their field of expertise. But I believe that ideas, being products of curiosity, come first. Our goal was to amplify such unheard ideas by students and for students. Our TEDxYouth event became a platform for collective conversation which will hopefully result to the discovery of knowledge."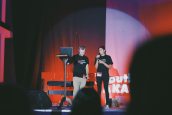 Ryan Herman and Saumya Gupta thank the speakers, performers, student team and sponsors at the end of the event.TEDx events are meant to spark interest and debate in the audience, cause a shift in thinking and inspire them to make a positive change. There has recently been an increase in the use of TED Talks in classrooms around the world to enrich the learning experience by exposing young people to short, powerful talks from different parts of the world which can inspire youth to create solutions to problems in their communities. Having such an event in our city provides a platform for exposure to new ideas and builds connections between young people of diverse backgrounds based on their ideas and passions. It inspires confidence in our youth to tackle long-standing socio-cultural and economic issues, while also providing them with a practical network of support. The hope is that this is only the beginning and that we will continue to see such events grow in scale, content and impact.
For more information, visit their website here. See their Facebook page here. 
By Aleesha Suleman