Meet Thuranira - our Human Resources Officer!
The Aga Khan Academy Mombasa welcomed 15 new staff members from around the world to its community for the 2019 – 2020 academic year. Throughout the next few weeks, profiles of the new staff will be shown, introducing who they are and how they want to bring change to the Academy.
Thuranira Mweti Thumatia, born and raised in Kenya,  joined the Academy as a Human Resources Officer – Employee Relations. Thuranira previously worked as a Human Resources Manager as well as a business partner. He holds a
Bachelor of Science degree and a Higher National Diploma in HR Management, and he is also a permanent member of the Institute of Human Resources Management in Nairobi, Kenya.
Through his position, Thuranira said he wants to "focus on maintaining high standards of staff welfare."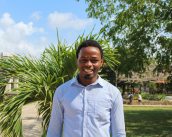 Thuranira Mweti ThumatiaThuranira said he can uphold the vision and mission of the Academy through his role by working with the AK Strands in everyday work life.
"As much as I don't interact with students directly, the staff shares similar needs of abiding by an acceptable code of conduct and cultivating habits of good governance" says Thuranira. "Working ethically and having a pluralistic outlook definitely helps resolve challenges at work."
From the time he has spent at the Academy so far, Thuranira said his most fulfilling moments have been "when a staff member has felt supported and happy" because of his role.