Meet Safari Fondo - our new Mathematics teacher!
The Aga Khan Academy Mombasa welcomed 15 new staff members from around the world to its community for the 2019 – 2020 academic year. Throughout the next few weeks, profiles of the new staff will be shown, introducing who they are and how they want to bring change to the Academy.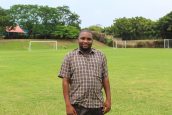 Safari FondoSafari Fondo, who is from Kilifi County in Kenya, joined the Aga Khan Academy Mombasa as a Senior School Mathematics teacher. Previously, Safari served eight years in the Teacher's Service Commission of Kenya. He also worked at Mount Kenya University of Mombasa, and taught part-time at the Technical University of Mombasa, Pwani University and Ahmed Shahame Mwidani Technical and Vocational College.  
Through his position at the Academy, Safari said he hopes to "encourage learners to discover their potential in Mathematics." He believes a teacher is also a learner, and looks forward to "learning new things in Mathematics" by the end of this academic year. 
Safari said he will uphold the vision and mission of the Academy by "collaborating with other staff members to achieve an integrated and well-informed learning experience for his students." Teamwork, in his words, "is a crucial aspect of inculcating the AK Strands in one's professional life." 
For Safari, the international diversity at AKA Mombasa, with respect to faculty and students, is his favourite part about the Academy.