The Aga Khan Academy Mombasa welcomed 22 new staff members from around the world to its community for the 2018 – 2019 academic year. Throughout the next few weeks, profiles of the new staff will be shown, introducing who they are and how they want to bring change to the Academy.
Juleen Keevy, Master Teacher of English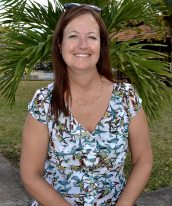 Juleen KeevyJuleen Keevy was born in the USA and is the new master teacher of English. Juleen has worked in the education field since 1993, specifically focusing on year 4 to the university level. She has worked in various parts of world, including the USA, Lesotho, Egypt and Saudi Arabia.
Through her position, Juleen said she hopes to combine her values, which are similar to the Academy's mission and vision, and skills to support the students and staff through new teaching and learning techniques.
"I was drawn to [the Academy] for a variety of reasons, but in particular, I share the Academy's commitment to ethical excellence and citizen-building," Juleen said. "While in Mombasa, I hope to enhance the digital, inquiry and communication practices necessary for students to participate effectively on local and global platforms."
Juleen said she is enjoying her time at the Academy so far, especially the people she interacts with.
"The people of [the Academy] and Mombasa in general have been incredibly warm and welcoming," Juleen said. "They are by far my favorite part of life here."