Meet Jackson Ltorisha - Our new Academy Fellow!
The Aga Khan Academy Mombasa welcomed 15 new staff members from around the world to its community for the 2019 – 2020 academic year. Throughout the next few weeks, profiles of the new staff will be shown, introducing who they are and how they want to bring change to the Academy.
Jackson Ltorisha, who hails from Maralal, a town in Northern Kenya, joined the Aga Khan Academy Mombasa as an Academy Fellow focused in the student support office. He recently graduated from the University of Pretoria with a BSc. in Environmental Sciences and Geographic Information System.
During university, Jackson worked at Africa Careers Network, an initiative based in South Africa that connects young talent from African Leadership Academy and the MasterCard Foundation Scholars Program to career and internship opportunities in Africa. He has also worked for over two years as a relationship officer-operations at Equity Bank Limited. Most recently, he held an internship with the South African chapter of Australian Indigenous Mentoring Experience (AIME), where he mentored high school students to prepare them for varsity.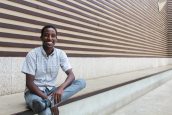 Jackson Ltorisha Jackson said he is very excited about his position as a Fellow.
 "I hope to build strong relationships with my co-workers, and most importantly students," said Jackson.
Through his position, Jackson aims to uphold the vision and mission of the Academy by incorporating the values that govern the AKA Mombasa community as part of his everyday work ethic. 
He added, "I wish to work diligently to achieve the set goals in my various roles."
Jackson has enjoyed his experience so far at the Academy. 
"The super friendly people who don't hesitate to say hello, and the climate" are his two most favourite things about the Academy and living in Mombasa.