Meet Harun Laval - Our new Bursar!
The Aga Khan Academy Mombasa welcomed 15 new staff members from around the world to its community for the 2019 – 2020 academic year. Throughout the next few weeks, profiles of the new staff will be shown, introducing who they are and how they want to bring change to the Academy.
Harun Laval who hails from Nairobi, was raised in Mombasa and joined the Aga Khan Academy Mombasa as its new bursar. He holds a diploma in Marketing from Intel College in Nairobi, and is currently pursuing a Bachelor's in Project Planning and Management from University of Nairobi at its Mombasa campus. This is Harun's first official job.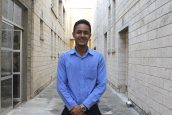 Harun LavalThrough his position, Harun hopes to uplift the productivity of the Finance department by being efficient and trustworthy.
He aims to uphold the vision and mission of the Academy by dedicating his time at the Academy to build the institution in any way he can.
"I realise that I am part of a very thriving community here, and we all work together to empower today's youth to become leaders of tomorrow," Harun said.
 From his time at the Academy, Harun's favourite part about the Academy are the students.
"The students at the Academy are so bright and full of life," he added.