Meet Felix Oyoo - our new Academy Fellow!
The Aga Khan Academy Mombasa welcomed 15 new staff members from around the world to its community for the 2019 – 2020 academic year. Throughout the next few weeks, profiles of the new staff will be shown, introducing who they are and how they want to bring change to the Academy.
Felix Oyoo was born in Homa Bay County, Kenya and attended high school there. In June 2019, he graduated from Ashesi University (Ghana) with a Bachelor of Science in Management Information Systems, following which he joined the Aga Khan Academy Mombasa as one of its new Academy Fellows focused in the Events office.
Prior to joining the Academy, Felix worked part-time at Equity Bank across various departments such as Internal Audit and Equity Group Foundation. He is also a member of Equity Global Leader's program. Felix has also worked with Future of Africa, a non-profit in Ghana, as a monitoring and evaluation coordinator for two years.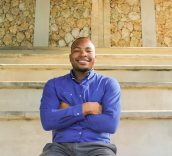 Felix OyooFelix said he wants to establish an event and calendar management digital solutions for the Academy, which he believes "will help the Academy make data-driven decisions and create awareness about events in the community."
Aside from working in the Events office at the Academy, Felix is also a mentor to year 9 students. Through his position in events and as a mentor, Felix said he hopes to uphold the Academy's vision and mission through the AK Strands of ethics and culture. 
"I will engage in holistic nurturing of students and propel them to be ethical leaders and responsible citizens," Felix said. "I also want to help my mentees find purpose in their lives."
The opportunity to be creative and explore new arenas is Felix's favourite part about the Academy. He is also looking forward to forging life-long relationships with his work colleagues and students.