Meet Erick Agira - Our new Chemistry and Integrated Science teacher!
The Aga Khan Academy Mombasa welcomed 15 new staff members from around the world to its community for the 2019 – 2020 academic year. Throughout the next few weeks, profiles of the new staff will be shown, introducing who they are and how they want to bring change to the Academy.
Erick Agira was born in Kisumu County, Kenya and joined the Aga Khan Academy Mombasa as a Senior School teacher of Chemistry and Integrated Science. He completed his Bachelor in Education Science (Biology and Chemistry) from Kenyatta University, Kenya in 2014 and worked at Mwer Boys High School in Siaya County and Dr. Elhefny Academy in Kisumu County, before joining AKA Mombasa in January 2016 as a Teacher Preparation Programme Intern. Following this, Erick worked at the Aga Khan Academy, Nairobi for two years wherein he helped in its transition process to a full International Baccalaureate World School, by working with Science teachers to develop a written Science curriculum currently used by the school.
Through his position at the Academy, Erick hopes to advance his teaching skills for the different year groups a part of the Middle Years Programme. 
"I hope to advance my flexibility, adaptability, as well as classroom management skills as different age groups require varied teaching strategies," said Erick.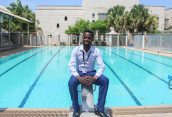 Erick Agira
Erick said he will uphold the vision and mission of the Academy by promoting holistic growth of students inside and outside of class. 
"This holistic growth occurs through academic discussions and extracurricular programmes, both of which I will actively participate in," added Erick.
From his time at the Academy so far, Erick said loves the opportunity of working effectively and efficiently with everyone irrespective of their diverse cultural backgrounds. 
"Inclusion of different individuals is what makes the experience at AKA Mombasa truly meaningful," said Erick.