Meet Donna Scott – our new Visual Arts teacher
The Aga Khan Academy Mombasa welcomed new members of staff from around the world for the 2020 - 2021 academic year. Over the next few weeks, profiles of the new staff will be shown, introducing who they are and how they hope to uphold the mission and vision of the Academy.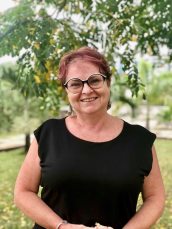 Donna Scott.Donna Scott, who is from Canada, joins the Aga Khan Academy Mombasa as the new Visual Arts teacher for Years 1 to 7. She has over 12 years of global work experience having worked in the Bahamas, Cambodia, Vietnam, Uzbekistan and most recently in Turkey, where she was the Primary Years Programme (PYP) Visual Arts teacher at an international school.
Donna is a graduate from the University of Ontario and Institute of Technology, B.Ed., specialising in Art and History and has an M.A. in Art History from Queen's University in Kingston, Canada. She has also studied Visible Thinking, a program out of Harvard that advocates using visual cues for learning.
Through her position as a Visual Arts teacher, Donna wants to get to know the students and create a safe and fun environment for artists to explore and grow. "I am interested in Teaching for Artistic Behaviour, a pedagogy that encourages the process of creating art, as opposed to churning out perfect, matching pieces."
Donna aims to uphold the mission and vision of the Academy by supporting students in their growth. "Education in the arts prepares children to be creative problem-solvers and to be open-minded and empathetic," Donna states. 
As an animal lover, Donna's favourite part about the Academy are the tame goats at the school.