Meet Catherine Gambo: Our new Year 4 Homeroom teacher
The Aga Khan Academy Mombasa welcomed new members of staff from around the world for the 2020 - 2021 academic year. Over the next few weeks, profiles of the new staff will be shown, introducing who they are and how they hope to uphold the mission and vision of the Academy.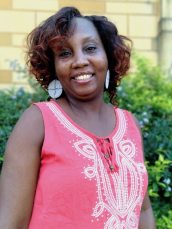 Catherine Gambo.Catherine Gambo, who hails from Kilifi, Kenya, joins the Aga Khan Academy Mombasa as a Year 4 Homeroom teacher for the Primary Years Programme (PYP). She has over 15 years' experience in elementary teaching, including teaching the International Baccalaureate curriculum in schools such as Greenfield Community School and Raffles World Academy in Dubai and Shanghai United International School in China. Prior to joining the Academy, Catherine was a Year 6 teacher at Kivukoni School in Kilifi. She is a graduate of Education in English (Literature & Language) from Daystar University.
Through her position, Catherine hopes to instill the value of responsibility in the students and deliver an integrated curriculum, which she says will place the students on a pedestal where they are competent enough to engage society, as she states: "They will embrace an international mentality; contribute positively to their immediate and greater environments because they have understood the importance of adding value and giving back to the community."
Having worked with many gifted children from different backgrounds over the last 15 years, including those with learning disabilities, Catherine aims to uphold the mission and vision of the Academy by being compassionate, nurturing, creative and enthusiastic to share the best teaching practices and resources with the students.
Catherine's favourite part about the Academy are the people. "The community, including my colleagues, the students and parents, is amazing and I am blessed to be part of it!"