Meet Aalia Kurji - our new communications manager!
The Aga Khan Academy Mombasa welcomed 15 new staff members from around the world to its community for the 2019 – 2020 academic year. Throughout the next few weeks, profiles of the new staff will be shown, introducing who they are and how they want to bring change to the Academy.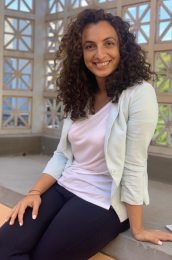 Aalia KurjiMombasa born Aalia Kurji joined the Aga Khan Academy Mombasa as the new Communications Manager. She has 13 years of global work experience to her credit, having worked in Toronto and most recently Zanzibar where she handled communications at the Sultan Sands-Bluebay Hotels.
Through her position, Aalia hopes to exhibit talent from the AKA Mombasa community.
"I would like to make sure the whole world knows not only what Aga Khan Academy Mombasa is, but what the Aga Khan Academies as a whole represent," explained Aalia.
Aalia believes that she will uphold the mission and vision of the Academy by uncovering students' talents to external stakeholders across the world.
"I aim to give students a platform to showcase their talents, which will give them the courage and confidence to become holistic, global leaders," said Aalia. 
Although only a few weeks old at the Academy, Aalia says she feels very much part of the school community.
"Everyone is so wonderful and it's such a great family to be a part of," added Aalia.