Madina Khudobakshova uses art to promote environmental conservation at Roof of the World Festival
Madina Khudobakshova, a Year 10 student at the Aga Khan Academy Mombasa, participated in the Roof of the World festival, where she held a virtual art exhibition whose main goal was to raise awareness about environmental conservation. The festival, which is held annually at the end of July in Khorog, Tajikistan, aims to develop cultural exchange between the people of Central Asia and beyond by sharing their customs, values and traditions through music, art and dance.
Madina's showcase boasted six beautiful paintings, which addressed environmental concerns such as air and water pollution, climate change, deforestation and the endangerment of animals.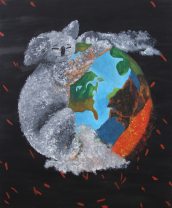 Madina's painting about global warming."Our only home faces devastating times and is experiencing irreversible changes caused by human activities. This should force us to take action before we reach a point of no return," Madina said about the art exhibition.
As the world continues to face environmental challenges, Madina took it upon herself to make a difference by using art to appeal to people to protect the natural environment.
"My artwork enables me to reach people's hearts to make them feel responsible for their actions and to take corrective measures to address environmental problems. We can bring a change by making sure we don't pollute the environment with rubbish, waste natural resources like water and take good care of animals for our future and the future of the next generation depends on what we do today," Madina said about the shared responsibility of all humans to save the environment from collapsing.
View Madina's art exhibition here.