Junior School holds first-ever virtual sports day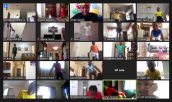 Students, teachers and parents on zoom for Junior School's sports day.The Junior School at AKA Mombasa held their first-ever virtual inter-house sports day from 23 to 26 November 2020, which was organised by Coach Fridah Gatwiri for students to enjoy fun out of class activities.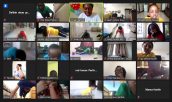 Students virtually partaking in a series of physical activities for sports day.Students' homes were turned into sports fields as furniture was moved aside to make space for games.  Our students donned their house colours, with teachers and parents cheering on and the banners put up in homes created a fun atmosphere for sporting action.
Students took part in several physical activities such as rope skipping, treasure hunting, ball shuttle racing, underarm throws, planks, ski hops, push-ups, spoon and egg race, bottle flip and dress-up challenges.
Commenting on the unique event, Coach Fridah said: "The purpose of the virtual sports day was to give students an opportunity to take part in various sports activities, have fun and promote team spirit in a friendly competition. I invited students to generate ideas at the planning stage, which fostered a sense of ownership for the event. Students had fun, and it felt great!"