How the Aga Khan Academy Mombasa is ensuring the well-being of students
As students continue to learn from home, the Aga Khan Academy Mombasa continues to prioritise their welfare during this difficult time. Being away from the normal school environment due to the COVID-19 pandemic may prove to be a little challenging for some students, which is something the Academy is keen to address and help get through.
To render support, the Academy's heads of student support and well-being, Minal Shah and Nuala Alibhai, have been actively reaching out to students and their families by establishing communication between students and their mentors to ensure they're doing well and keeping safe.
"I think this is the perfect time to think and reflect on the value of well-being," Minal said. "Well-being isn't something that can be regarded as a 'by the way, if you have time' kind of thing, as it is central to all beings. In our context of education, reaching out to students and their families to ensure they're well is essential. We cannot focus on why math isn't being done when we're not considering how our students are coping with the current pandemic."
Nuala notes that a time such as this can be overwhelming for both children and parents, and can result in fear and stress. "There has been a disruption of familiar routines and a sudden disengagement from their social circle at school and in the community," Nuala said. "Navigating these changes can be difficult, so we provide additional emotional and psychological support because children who feel safe and supported are in a better position to learn."
The Academy has placed high importance on providing parents and students the support they need. Nuala said the Academy's good relationship with students and their parents makes it easy for them to reach out to those that require support. Additionally, identifying students who are finding it difficult to cope is done through regular surveys to gauge and establish their needs.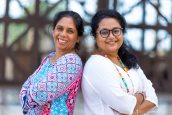 Nuala Alibhai and Minal Shah."When we suspect a student is struggling, I reach out to their families via calls and emails," Minal said. "The initial alarm goes off when they don't respond to their mentors or teachers. We also have several students who've reached out for support. Supporting so far is catered for at various levels – identifying students who are still adjusting to the new way of learning via strategies that boost their organisation and self-regulation; offering them virtual academic support through our dedicated team of teachers; and regular check-ins with their mentors where they play virtual games with their peers and have catch up conversations or focus on specific themes that keep with the spirit of connection."
Although the process has not been entirely effortless, Minal and Nuala said they appreciate the challenges.
"With the diversity the Academy caters to, sometimes it becomes challenging to reach out to students in varying time zones, however, we've managed to reach out to most of our students," Minal said. Nuala, on the other hand, sites poor internet connectivity as a problem that interrupts online counselling sessions.
To further offer encouragement and support, all stakeholders that interact with students are also reached out to.
"I do regular check-ins with the teachers and I am excited to reach out to the parent community via online webinars soon," Minal said. "Parents are pivotal in any academic institution and I really look forward to meeting them online."
To reach the student support and well-being team, email: minal@agakhanacademies.org & nuala.alibhai@agakhanacademies.org