A Historic Partnership Agreement is Signed with the Province of Ontario
At the signing ceremony, His Highness spoke of the partnership as an investment that will help lift education and teaching as a profession, which is an area of great need in the developing world. "In investing in [this] partnership, we are investing in a profession which is critical for the development of a quality civil society in the third world…I would ask you to think of this not only in terms of what we will be able to achieve…but in a much wider context of the teaching profession and its position in the developing world."
The establishment of this partnership signals a recognition by the Government of Ontario of the quality and potential of the Aga Khan Academies programme. Two joint projects have been planned that will benefit both teachers and students.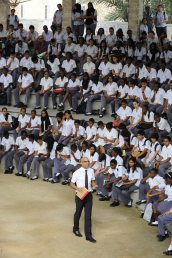 Senior School Principal Naheed Bardai conducts an assembly at AKA, Mombasa Firstly, a secondment programme will allow experienced Ontario teachers to spend time at an Aga Khan Academy to help build outstanding teaching and learning practice while also gaining first-hand experience in a different cultural and geographic context. The benefit of this kind of exchange is exemplified by Canadian teacher Naheed Bardai, who has been working at the Aga Khan Academy, Mombasa for several years. He will be returning to Ontario to take up a leadership role at the Upper Canada College later this year. Talking about his experience at the Academy, Naheed explains, "The opportunity to be immersed in a rich historical and cultural context so different to my own in Toronto has helped me to appreciate and celebrate diversity, while recognising the similarities we share as human beings. Working with optimistic and talented young people has helped me see this similarity even more strongly, as they share many of the same ambitions, hopes, and trepidations as youth in Canada…I hope to bring [with me] my strengthened appreciation for pluralism and commitment to helping young people grow into ethical leaders."
In her remarks, Premier Wynne noted, "It is important for the world that we have a better understanding of how pluralism can work, and I think the language in the agreement is exploring how we can encourage a disposition towards pluralism."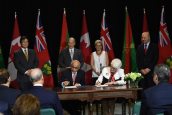 Director of Academies Salim Bhatia signs on behalf of the Aga Khan AcademiesSecond, Academies students will also directly benefit from the partnership through a programme of tuition scholarships from Ontario that will allow students of limited means to continue to higher education at some of the best universities in the world. Talented Academies students such as Maxwin Omondi and Mary Favour will be able to complete their education and improve their quality of life, and through them, the lives of their families and communities. Maxwin and Mary are two of the many students that will be joining a number of other Academies graduates at Ontario universities this fall. They both come from marginalised communities in Kenya where poverty is high and many students can't access even secondary-level education. They were supported to attend the Academy and have now obtained full scholarships to attend the University of Toronto.
Maxwin, who is working toward a career in engineering, says, "My vision of pursuing engineering…will enable me to work with communities around Kenya and Africa in general and improve social and economic development." Mary hopes that her experience will prove to be a model for girls in her community. She explains, "The very act of me getting accepted to a university abroad means that the girls in my community can look at themselves and say, 'If Mary could do it then I can too.' That's why this really changes my life and my community's life as a whole."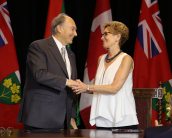 His Highness and Premier Wynne following the signingPremier Wynne noted, "His Highness the Aga Khan has devoted his life to the values we cherish in Ontario — diversity, pluralism, peace, tolerance and sustainable human and economic development. This agreement reinforces Ontario and the Ismaili Imamat's shared commitment to these values, and to improving the lives of young men and women here in Ontario and around the world through education."
The Aga Khan Academies look forward to partnering with the Province of Ontario over the coming years to share knowledge and expertise, and to provide learning and development opportunities for both teachers and students.