Global Skype-a-thon to Celebrate Learning Without Borders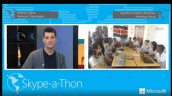 In early December, the ITGS (Information Technology in a Global Society) Diploma Programme students from the Aga Khan Academy, Mombasa joined Microsoft's global Skype-a-thon designed to connect classrooms around the world and showcase how technology can be used to enhance the learning experience. This class contributed to the worldwide goal for participants to travel a collective one million virtual miles, connecting peers, experts and experiences on all five continents. Together, the goal was surpassed, and three million virtual miles were reached by students and educators around the world. 
"This was a unique opportunity for the class to access instant expert knowledge on IT issues from Microsoft education headquarters using Skype, which otherwise could not have been possible," said Mr. Serem, the ITGS teacher.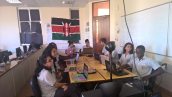 As part of the activity, educators were asked to choose from thousands of activities including speaking with an expert guest speaker on a topic their class is studying. They could also choose to take their class on a virtual field trip. Skype in the Classroom offers these virtual trips that spark imagination, from learning about sea turtles to exploring cultural perspectives in Western American art – and nearly everything in between. Educators could also connect with classrooms in other countries with #Mystery Skype, a global guessing game that teaches kids geography, promotes cultural understanding and broadens perspectives.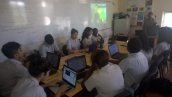 "Today's educators must not only impart skills and knowledge, they must play a key role in developing students into global citizens prepared for a shifting workplace and an increasingly complex society," said Anthony Salcito, Vice President of Worldwide Education, Microsoft Corporation. "The global Skype-a-thon is one way that we are working to help many educators and students take a major step on that journey."
The ITGS DP2 students from Aga Khan Academy, Mombasa participated in the Skype-a-thon by asking several questions touching on career opportunities in IT, Microsoft contributions in Africa, and some current developments in smart technology.
For more information visit Skypeathon.com.