First residential dinner of the decade!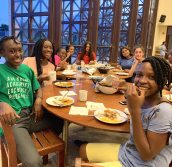 From right to left: Clemence Mwanjele (Year 9), Agape Nyamawi (Year 10), Nadia Ntege (Year 9)On 9 January, the Aga Khan Academy Mombasa's residential community held its first residential dinner of the decade. The residential captains extended a warm welcome to all the new students who recently joined the Academy. This academic semester there have been seven new enrollments in Year 6, three in Year 7 and four new registrations in Year 8.
Residential dinners are held every Wednesday at the Commons and offer an opportunity for informal interactions between residential parents and residential students. They provide students of all backgrounds the impetus to thrive emotionally, intellectually and physically.