Educators recognised as Microsoft Innovative Educator Experts for Kenya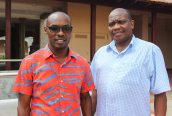 Johnson Monari, left, and Dr Maina WaGíokò, right.Dr Maina WaGíokò, AKA Mombasa's Vice Principal for the Professional Development Centre and Outreach, and Johnson Monari, an English teacher, were recently recognised as the 2019 – 2020 Microsoft Innovative Educator (MIE) Experts for Kenya. 
The MIE Expert programme "is an exclusive programme created to recognise global educator visionaries who are using technology to pave the way for their peers for better learning and student outcomes," according to Microsoft. 
Dr WaGíokò has been a MIE Expert since 2015, while Johnson has been a MIE Expert since 2016. 
"I first got to know about the MIEE programme in 2015 when I joined the Teacher Preparation Programme," Johnson said. "I was curiously looking for ways I could spice up my teaching with technology. In 2016, the Academy offered the MS 'Teaching with Technology' as one of the optional Certified Partner for Learning Solutions and it was a perfect opportunity to learn more. The MIEE programme brings me up to speed about new technologies and what it means for education, but also helps me appreciate our continuously changing learning environments."