DP2 students shine at PA-K award ceremony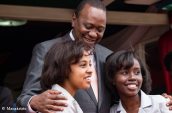 Sumera (right) and Magdalena (left) pose with President KenyattaTwo of the Aga Khan Academy, Mombasa's DP2 students, Sumera Yego and Magdalena Gakuo have earned the President's Award-Kenya (PA-K) this year.
Sumera and Magdalena were presented the award by President Uhuru Kenyatta at State House Nairobi on 7 October. The two AKA, Mombasa students have made us all proud by setting a new record of being the first candidates to have achieved the Gold level of the award programme online.
This award is part of the prestigious international awards administered by the Duke of Edinburgh in 120 countries. "The President's Award-Kenya exists to develop and deliver quality experiential activities that impart positive life skills and ethical values to young people for a better society." It is a nationwide programme that includes participants from all over Kenya.
Click here for images from the ceremony.