Defending champions AKA Mombasa reign on at County basketball games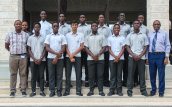 AKA Mombasa's boys' basketball team.The Aga Khan Academy Mombasa basketball teams defend their titles at the Mombasa County basketball games hosted at Shimo La Tewa Secondary School grounds on 12 and 13 March 2020.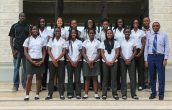 AKA Mombasa's girls' basketball team.The first day of the ball games saw AKA Mombasa post good results. The girls' team played against Mt. Sinai Academy Secondary School and Mtopanga Secondary School to win 37-02 and 38-00 respectively. On the same day, the boys' team played against Mtopanga to win 37-01, Mt. Sinai to win 50-13 and 44-09 against St Charles Lwanga Secondary School.

In the finals, defending champions AKA Mombasa girls' and boys' teams registered easy victories against their opponents winning 38-15 against Mama Ngina High School and 63-33 against hosts Shimo La Tewa respectively.