The Business of Education in Africa report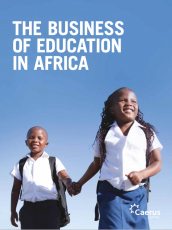 A pathbreaking new study – The Business of Education in Africa – launching today at the World Economic Forum, demonstrates the importance of private education in addressing the continent's education crisis. The Aga Khan Academy Mombasa has been included in the report as one of the case studies.
New research finds that 21% of African children and young people are already being educated in the private sector. This report demonstrates that the real rate is almost double that figure. In order to meet this existing demand, the private education sector alone requires investment of US $16-$18 billion over the next five years.
To meet sustainable development goals, a vibrant mix of private education (for-profit and non-profit), public private partnerships, and improvement of public systems is required - all areas that the Aga Khan Development Network (featured in the report) is working towards.
Read more about it here or download the report for more.