Breakfast meetings with new Head of Academy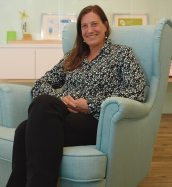 Alison Hampshire, the new Head of AcademyThe Aga Khan Academy Mombasa welcomed 102 new students to its campus for the 2018 – 2019 academic year. The new students' parents are also being welcomed by the Head of Academy (HOA), Alison Hampshire, for a breakfast meeting being held from August to December.
"Parents, you're welcome to come and spend some time getting to know each other, getting to know me," said Alison Hampshire, the HOA. "The breakfast meetings are a really good opportunity for us to work together to help improve the experience for your children. This is a time where you can tell us what we're doing well, and give us some suggestions on what we can do better."
The breakfast meeting will allow parents to meet the new HOA, ask questions and make any comments. The first breakfast meeting will be held for the parents of DP2 students on 23 August from 8.00 am to 9.00 am in the Executive Boardroom. The meetings will continue as follows:
30 August – Year 10
6 September – DP1
13 September – Year 1
27 September – Year 6
25 October – Year 9
1 November – Year 8
8 November – Year 7
15 November – Year 5
22 November – Year 4
29 November – Year 3
6 December – Year 2
To RSVP for a breakfast meeting, please email Florence Oduol at florence.oduol@agakhanacademies.org.