Basketball Team Attends Giants of Africa Camp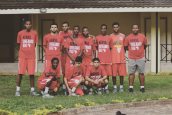 AKA Mombasa students at the Giants of Africa basketball training camp in Nairobi.Scaling new heights, 10 Academy students have been invited to attend a rigorous training camp called the Giants of Africa. The camp is organised by the National Basketball Association professional team Toronto Raptors. The camp is running from 20-23 August, 2016 in Nairobi.
Last year, three students from AKA Mombasa participated in the camp and benefited greatly from the experience. Coach Jimnah Kimani believes that the camp transformed the boys and had a significant positive impact on their attitudes, which led to their exceptional performances in a number of tournaments in April.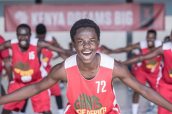 Year 10 student Edgar Wangira relishing the training with his colleagues. Appreciating the talent of the boys, Coach Kimani explains that it was the exceptional skill that the Academy's students exhibited at the Giants of Africa training camp last year that resulted in this year's invite being extended to 10 students.
"Getting 10 students (up from 3) invited for this camp is a tremendous achievement and we congratulate Coach Kimani and the team on this feat. We wish them all the best and hope the boys will have an enriching experience. We also look forward to a great season this year!" says Senior School Principal, Francis Kariuki.
Photo Credit: Giants of Africa