Alumnus Ham Serunjogi Featured in AKF USA's Humans of the World Series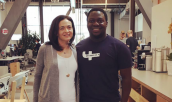 Ham Serunjogi with Facebook COO, Sheryl SandbergAs part of its #Humansoftheworld series, the Aga Khan Foundation USA is thanking its supporters by showcasing "...stories of appreciation, self-reliance, and strength". One of the profiles featured recently on their website includes that of AKA Mombasa graduate, Ham Serunjogi, from the Class of 2012.
Ham traveled to Kenya from his native Uganda to join the Aga Khan Academy Mombasa in 2010. A dynamic student with a creative mind, Ham was actively involved in various extracurricular activities at the Academy. Having already competed in the Youth Olympics in Singapore the same year, Ham explored student leadership initatives at the Academy and eventually became President of the Student Representative Council. He also used his school projects as an opportunity to further explore his deep interest in digital communication in Uganda.
The critical thinking skills that the Academy's education instilled in Ham helped him to develop the ability to solve problems in an innovative manner. While studying on a prestigious scholarship at Grinnell College in the United States after graduating from AKA Mombasa, Ham, along with a fellow student from Ghana, developed an innovative voice messaging app.
Ham's drive to aim high and dream big helped him land a job at Facebook's international headquarters in Dublin, Ireland. As part of his role, Ham manages parternships for "Facebook's largest advertisers in the UK". He also travels to London frequently to represent Facebook at various events, where he had the opportunity to meet the company's COO, Sheryl Sandberg.
Ham remembers his time at the Academy fondly and continues to maintain strong bonds with his friends from the Academy. We are very proud of Ham's accomplishments and hope that he continues to achieve his goals!
Photo Credit: AKF USA