Aliasgar Jafferji wins Coast Regionals in Malindi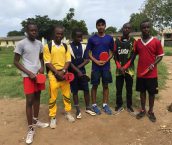 Aliasgar Jafferji (DP1) - also known as Aliasgar Pongwe - has emerged the Coast Region Table Tennis Champion after two days of Coast Secondary Schools Region finals at Malindi High School.
He is ranked as Number 1 at the Coast and he will lead the onslaught of the team in the nationals which is being hosted in Kisumu from 29 July to 04 August 2019.
Congratulations to Aliasgar and we wish him the best in the Nationals!
Shayne Shah (year 8) also represented Mombasa County in table tennis and Grace Ogolla (year 7) in badminton at the group stages.