AKA Mombasa students win big at Oshwal Academy Model United Nations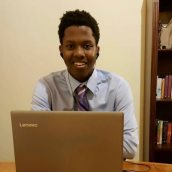 Mwendwa Mule virtually chairing the conference.AKA Mombasa students triumphed at the 18th Oshwal Academy Model United Nations (OAMUN) conference held between 11 and 14 November 2020. The conference, which was held virtually for the first time, is an educational simulation of the United Nations (UN) in which students learn about diplomacy, international relations and the UN. It attracted all the international schools within Mombasa.
In the three-day conference, students had the role of delegates for different countries and attempted to solve real world issues with the policies and perspectives of their assigned country. AKA Mombasa students shined all the way through, winning the most awards in the various categories. Some of our very own students also presided over the conference. This included Faizaan Firoz; Mwendwa Mule; Tianna Parmar as Senior Chairs and Sakina Rashid; Haimi Shah as Junior Chairs.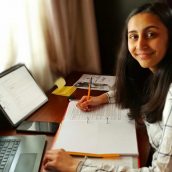 Tianna Parmar virtually chairing the conference.Below are the awards the students won during OAMUN:
Middle School Model United Nations (MSMUN) category winners:
Best Speaker - Maheera Intikhab
Best Delegation, India - Ambassador Ilhaam Ladha
East Africa Model United Nations (EAMUN) category winners:
Best Speakers - Ryan Maina, Calvin Atuhaire, Qaisara Yasin
Best Resolution in the Economic Committee, Germany - Ambassador Ryan Maina
Best Resolution in the Economic Committee, Burkina Faso - Ambassador Noah Wanjohi
Global Summit category winners:
Best Speakers - Furuzon Atobekova, Andrew Kamami
"As a Senior Chair and MUN executive, it was very emotional to participate in my last OAMUN conference. Even in a year like no other, it was heartwarming to see all the delegates engage in meaningful debates about the major issues we face today ranging from COVID-19 to human rights. The Academy bagged the most awards and I was very proud to see the delegates grow and improve not only as debaters but as critical thinkers over the course of the conference," Diploma Programme 2 student, Faizaan Firoz stated.
Year 10 student Tianna Parmar described the experience as one of the happiest days of her life. "I made history by being a part of the first-ever virtual OAMUN conference and being the one of the youngest, if not the youngest Senior Chair that they have had. Although I had interviewed for a Junior Chair position, I was informed that I had scored the highest points and therefore offered a Senior Chair position in the 18th Annual OAMUN Conference. The training that we received from AKA Mombasa's MUN executive committee helped me prepare for the conference. Additionally, Mr. Johnson, our enrichment's advisor, believed in me and told me to give it my best shot and that he was confident that I would get the Chair position. The support made all the difference. This conference is truly unforgettable!"
Expressing his pride in the students' achievements, English teacher Johnson Monari said: "This success clearly reflects the vision of the Academy of preparing students to thrive in the ever-changing world!"