Aga Khan Academy Mombasa students bag five awards at the 38th EAMUN conference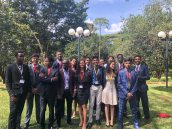 AKA Mombasa students at EAMUN conference.Students from the Aga Khan Academy Mombasa bagged five awards at the 38th annual East African Model United Nations (EAMUN) conference held at the UN headquarters in Nairobi from 23 to 29 February 2020.
The conference, whose main aim is to build tomorrow's leadership, saw the students form solutions to real world problems. It is one of the only Model United Nations (MUNs) to hold its conference in official United Nations territory and allows students who attend to further immerse themselves into the world of the United Nations.
The conference had 3,000 delegates of various nationalities from 69 schools. The following AKA Mombasa students scooped 5 awards for best speakers and delegates: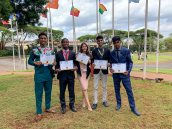 AKA Mombasa students posing with their awards.
Hisham Ladha DP1 – best speaker, Human Rights Committee
Andre Lupembe Y10 – best speaker, Special Summit
Cinzia Torriani DP1 – best speaker, Political Committee
Arshman Balouch DP1 – best delegate, Human Rights Committee
Faniki Deche Y10 – best delegate, Economic Committee
One resolution by Year 10 student Kaif Kassam, 'Addressing the rising sea levels and natural disaster effects in the Caribbean through a 7-year programme in the Bahamas with the member states represented in CARICOM' was voted for with overwhelming numbers.
"This resolution shows how our students have taken seriously the Stewards and Leadership attributes from the Learner Profile that make our Academies unique," said English teacher Johnson Monari. "We are truly nurturing leaders."