The Aga Khan Academy Mombasa holds annual inter-house sports day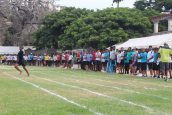 AKA Mombasa students at sports day.The Academy in Mombasa held its annual inter-house sports event for both Junior and Senior School on 29 February 2020 where students, teachers, staff and a few parents participated enthusiastically to mark the event.
Senior School students from the 4 houses – Eagles, Falcons, Hawks and Ravens, took part in various fun-filled track and field events such as relay races, cross country, javelin, shot put, long jump, high jump and more.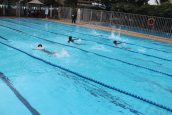 Junior School students swimming.Junior School held an interhouse swimming competition with events such as freestyle kick, backstroke, dolphin race, breastroke, mixed relay race and their first ever synchronised swimming.
The highly competitive event saw Hawks take first position across all events with an overall score of 1,287 points followed very closely by Falcons with 1,285 points, Ravens with 1,263 points and Eagles with 1,261 points.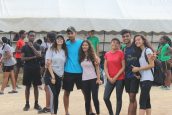 Senior School students pose for a photo.Sports day provides a platform for students to have fun, interact outdoors and showcase their talent and sportsmanship. It also teaches them about teamwork and the importance of being physically active.